Right, so I get off the train from my first exhibition in Bristol (see previous blog) and now I'm heading home for re-fueling then out again on my three exhibitions in one day splurge. I was, as someone later called me that evening, an 'Art tart' having gone to three private views in the course of five hours. Hey! What did I care, I was in good company and after being malnourished of art during the past month an artistic binge was on the cards!
Second stop of the evening (once my mysterious and glamorous chauffeur,
Boz
had managed to get us to our destination via the dark country lanes)
Blackmore
farm (equally dark and glamorous). Featuring a cornucopia work from local artists: Fiona Campbell, Melanie
Deegan
, Jim
Munnion
, Diane
Burnell
, Lucy Brown, Alison Jacobs and many more (apologies for not mentioning you all). I have to say that in terms of location this place was fab! Normally the building is a bed and breakfast/farm shop but it really was built for showing art (or murder mystery evenings? Its that sort of place). Due to its really grand stone interior, Gothic windows, big wooden doors, creepy alcoves, huge fireplaces, suits of armour and cobwebs I think I could be forgiven for being entranced as much by the character of the building as the art. It was a similar case with the
Cotley
Tithe barn show I was in, I'd be lying if I didn't say that I thought the building itself was the greatest art on show and to some extent does both enhance the work whilst eclipsing it at the same time.
Blackmore
is a similar example, great artists, in a building that really stole the show. This isn't to say you should only exhibit in white walled galleries so the work has a chance to show through, but there is a double edged sword to showing work in buildings so drenched in their own mystery and beauty without the art. On saying that though, work like Fiona Campbell's spider fitted great into the dark and equally cobwebbed space. Similarly, Melanie
Deegan's
sculptures of rooks looked very at home inside what I assume was the window of an old chapel. Still exciting to see all the work in a different context and I really enjoyed looking around and discovering it all.
Myself and
Boz
had made it back to
Taunton
unscathed via the dark country lanes to our third and final stop of the day which was home to the
Recessionists
, this time exhibiting in a new gallery on East Street called the Pear Tree and featuring the work of Sam
Jeffs
and Beatrice Hammond. Despite the size of the gallery (it is quite small, but perfectly formed!) the place was packed and all the usual suspects were there making it a fun and great end to what had been a brilliant day. The
Recessionists
, whenever they have a show, certainly do it with style and HOORAY! how happy I am to see contemporary work by young artists in this exhibition. We had Bea's drawings and Sam
Jeffs
' sculptures (see images below) in this show. Dark, edgy and original, I thought to myself, but I really did enjoy studying the work which, for me had two of my favourite interests, in the way of drawing (from Bea) and the use of tools/metal/machinery (from Sam) so there was a lot I could get excited about.
Thus, as I headed home that Friday night I concluded my art binge for the month. On the way reflecting what a weird and diverse set of things I'd been to see, from a performance in a sandwich shop in Bristol, to a
majestic
exhibition in an old farm house and then to conclude a party on East Street with a gallery that exhibits art in the window under the glow of a
UV
light. Just another 'average' day in the art world and just the kind of way I'd like it to stay.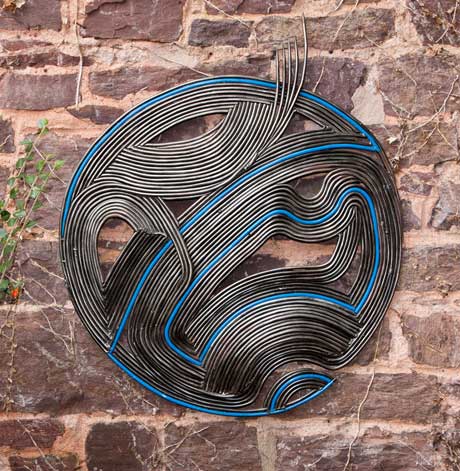 (above) Sam Jeff's -Sculptor whose work was in The
Recessionists
show on East Street
(below) Beatrice Hammond - whose work was also in the
Recessionists
show on East Street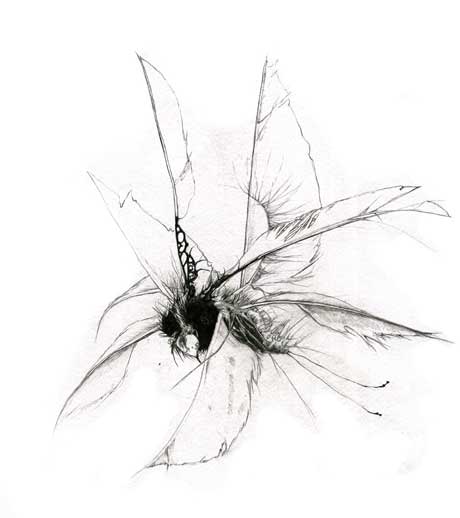 (above) Lucy Brown -Ceramic artist whose work was on show at
Blackmore
Farm