WOW! What an amazing day! Those of you who follow this blog regularly may remember in May I posted the creative goings on during Taunton's Olympic torch ceremony, one of those in particular being, 'The Somerset Journey' which began on May 21st and has travelled around the county visiting schools, nurseries, villages, Musgrove Hospital, Glastonbury Abbey, Langport Festival and more in its mission to 'Sound out Somerset'.
Yesterday finally saw the spectacular conclusion to 'The Somerset Journey', where our Wind Gatherers, their vehicle, The Big Noise Band and local performers were in Weymouth for 'The Battle for the Winds'! Somerset was joined with, Devon, Dorset, Gloucestershire, Cornwall, Wiltshire and The West of England and their wind gathering vehicles and performers in an afternoon procession by the sea followed by an evening performance on Weymouth beach produced and starring 'Cirque Bijou' and 'Desperate Men'. The day concluded in style with 2012 torches being lit on Weymouth beach and carried out into the sea by 2012 people. The whole day had many fantastic delights and spectacles of creativity, performance, music and gymnastics to be seen. Hundreds of local people from the South West, Weymouth and beyond came to watch the performances and even more local people have taken part in the processions, the organising, creating and making that has gone into creating Battle for the Winds.
Being completely useless at sports the Olympics felt like something that wouldn't remotely interest me, however after being involved in the organising of the Somerset Journey and watching communities coming together and celebrating throughout the county might not have changed my opinion of sport (I'm still not that interested in it) but as an event it has certainly done a lot of good in creating outdoor performance and creativity here in the South West as well as a sense of being united. Surely this can only be a good thing in the long term, I think, for inspiring and creating opportunities for future events? Looking today at the programme for Weymouth's 'b-side' multi-media arts festival looks equally as exciting (see link below) and is another prosperous hope for the continuation of innovative and contemporary arts practice from both local and international artists coming to the South West. I hope that the positive affect that it is having on the arts will continue to have a legacy long after the games have finished.
Below are some images from yesterday's celebrations in Weymouth.
For more info visit: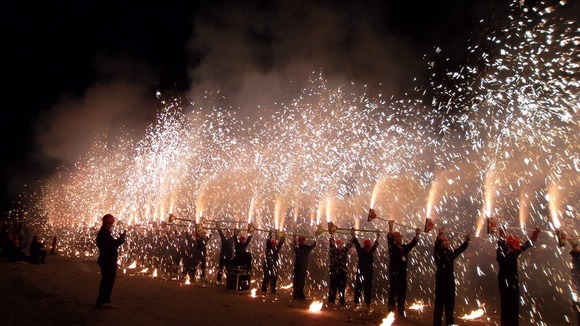 The Bridgwater Squibbers on the sea shore in Weymouth marked the end of 'The Battle for the Winds' . *
2012 People lit torches on Weymouth beach last night and walked into the sea.*
Cornwall's Wind vessel, 'The Kernocopia'

The West of England's Wind Gatherer

Our very own Somerset Wind Gatherers, joined here with a performer from Cirque Bijou.

Old Mother Gloucestershire aboard her Wind Vessel.
Somerset's Big Noise Band during the procession.